HOW TO CHECK WHETHER THE QUALITY
---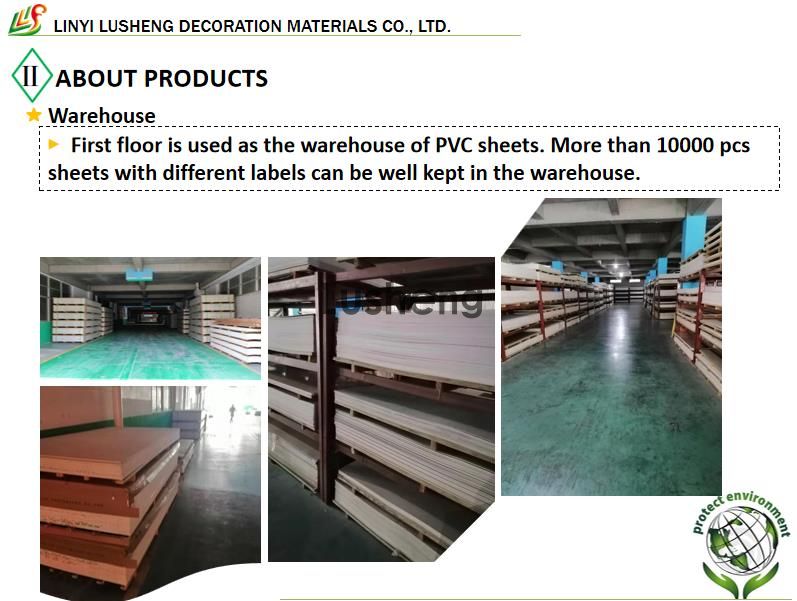 Linyi Lusheng Decoration Materials Co., Ltd. specializes in the production of PVC marble sheet, focusing on high-end products. Only environment-friendly raw materials, bright UV paint and professional film paper can achieve more high-quality products. The testing standards of Luxor for PVC marble sheet will be explained in detail below.
1、 Appearance Product Size and Thickness
The standard thickness of the product is 3mm, and the error does not exceed 0.1mm
Product size: 1.22m * 2.44m, with error no more than 1cm
Diagonal measurement, error not exceeding 5mm
The thickness and size can be customized, and the standard remains unchanged.
2、 Bending degree The product is folded in half, two people stand on the short side, lift the board along the direction of the long side, and the opposite side can be docked. The PVC marble sheet does not break, and this toughness is qualified. The degree of toughness can be customized according to customer requirements. If the whole product is required to be bent or rolled, the requirements can be noted separately.
3、 Substrate. The basic materials are PVC and calcium powder. The side surface looks clean and white. After extruding the base material, the surface is smooth and flat.
4、 Membrane paper. The pattern and color of the film paper are clear, the grain is clear, and the color is bright. Color lasts. There is no false hot, missing print, delamination or wrinkle on the surface. More than 95% of the goods in the same batch shall be free of color difference.
5、 UV paint. The roller coating shall be uniform. Standard thickness 4 wires. Luminance: 110-120cd/㎡. No cracks, blisters or pits. The paint is smooth and has a mirror effect.
6、 The package is intact. The density board is used for supporting, and 100 pieces are used for a tray. The product is wrapped with transparent plastic film. The six sides of the pallet are protected by boards and tied with packing belts.